What are we?
These rides are led by an experienced leader and have been variously described by regular riders within the group as "Inclusive", "Friendly" and "Good Company". This group aims to provide rides that are designed to be relaxed but at a pace which is invigorating. Although not specifically suitable for those who are totally new to cycling the 11 – 13 mph average speed is "middle of the road" when it comes to West Surrey Groups.
Alternating start locations between Guildford (1st Sunday in the month) and Godalming (3rd Sunday), the areas that are available to us for our rides vary between roads on the flat and the more challenging slopes of the Surrey hills. Where possible, routes avoid main roads and take advantage of the beautiful tree lined lanes of our county. Occasionally the byways of Hampshire and even Sussex are also involved.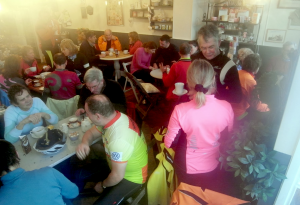 Morning rides always include a stop for coffee, cake and a chat (The image is of a coffee stop one chilly morning, the "soft focus" being condensation on the camera lens). Typically the group returns to the start point after coffee, howeverindividuals are welcome to extend their ride to lunch and beyond, all agreed on the day. Rides are throughout the year in all conditions, the only limitation being when ice is present and considered too "iffy".
If this group has appeal just turn up on the day ten minutes before the allocated start time. A phone call to our leader (see Ride Group Leaders page or see the latest Rides List ) is appreciated but not essential
Safe and Happy Cycling.
Peter Fennemore
Leader G&G Group
See here for a detailed summary of the various Ride Groups.