As the name of this group indicates, the full rides last all day, and are distinguished from the Intermediates  by the longer distance normally travelled,  typically 70 – 80 miles, perhaps a touch more on long summer days.  However, there are always stops for coffee and lunch, and as these are determined and published in advance, some riders join for just part of the ride, perhaps meeting up at coffee.  Lunch stops are generally at a café rather than a pub, which again is a distinguishing feature when compared to some other ride groups.
The pace is kept steady all day, by no means fast by the standards of many cycling groups, but at an average of over 14 m.p.h., this can still be a challenge to any who are relatively new to cycling – and some old stagers as well!
The social side is by no means neglected, and in addition to the published coffee and lunch stops, those riders who stay out all day in the summer somehow find time and space for afternoon tea and cakes (known as necessary refuelling)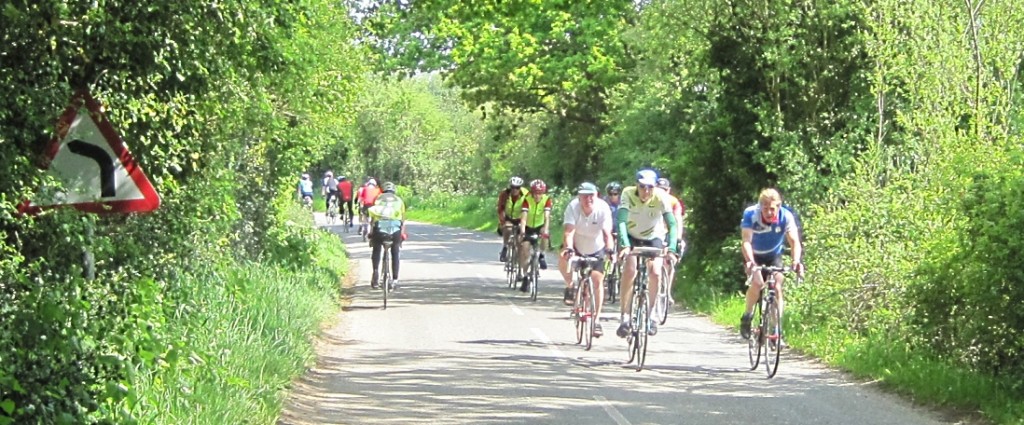 The leader will seek out the best country lanes, and with both the North and South Downs within easy range, one can expect to negotiate a few hills during the day.    Popular destinations for rides include the South Coast, such as Littlehampton, Shoreham and Bosham.  A train assisted ride via Winchester to the New Forest is also a popular summer destination.
See here for a detailed summary of the various Ride Groups.