How we Ride
Welcome to 21st Century Group Riding
Riding in a group is a fun, safe and pleasurable way of enjoying our beautiful countryside in the company of fellow-cyclists. However, riding in a group is rather different to solo riding, and you need to be aware of the additional considerations – potential hazards even – associated with group riding.
To achieve this we ask our riders – members and visitors alike – to familiarise themselves with these considerations, which are encapsulated in our club guidelines.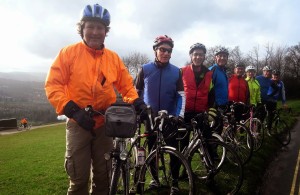 These guidelines demonstrate a clear focus on safety and respect for other road users and are based on best practices acquired from decades of cycling experience and should already be familiar to experienced riders. They include advice provided by our national body which we have updated and added to in order to adapt them to the realities of riding on today's South East UK roads. Surrey roads have changed much over the years: they are certainly busier, their physical condition is deteriorating, and almost certainly there is more inconsiderate and aggressive driving. Our behaviour as riders must reflect that reality in order to make sure that everyone arrives home safely.
Put in slightly different way, these guidelines are intended to clarify what you, as a rider, can expect from your ride leader, back marker and fellow riders, as well as what other riders should expect from you. If you are new to the club, please rely on the advice of the experienced rider who may have been assigned to assist you. Ride leaders and back markers will be happy to offer any additional advice to help you interpret these guidelines, and have been asked to ensure that you understand them and comply with them. Please don't be offended or put off if something you have done causes one of them to offer some discreet additional guidance.
Experience shows that adherence to the guidelines will create the safest and most predictable environment for us to enjoy our cycling and enable our members to be seen in a positive light by other road users. This is why you will appreciate that this document is essential reading for all, so make yourself a nice cup of tea, sit down somewhere comfortable and take your time reading the guidelines now. Find them here.
Overview of all Rides and Groups – How fast, how far, how often?
We offer a regular programme of rides and cycling events that are open to all CTC members. Not sure which ride to choose?  Please have a look at our Overview of Rides and Groups.
As you can see in the Overview of Rides and Groups we have groups to suit various abilities. Do feel free to contact one of the Group Leaders for more information.
Our rides programme is available in two formats: calendar or rides list in PDF. 
Stay in touch and let us keep you informed
Please go to this page to register for Club Announcements and  to be added to our email list.
How to post articles to our Blog and pictures to our Gallery
Please email your text and photos to the webmaster and we will post them for you.
How to participate in our Discussion Forum
We have a Discussion Forum so that members can share and discuss information and opinions. Anyone can view the discussions (i.e. no need to be logged on) by clicking here.
However if you wish to reply to a topic or create a new topic, you will need to be logged on. Fill in the Registration Form on the Discussion Forum page. It may take a little while for your request to be acknowledged if you are registering for the first time. Naturally, you will be asked to abide by our rules of etiquette when you make an input to our Discussion Forum.
Not a CTC member?   – Not a problem!
Non-members are most welcome to come riding with us but you will be asked to join CTC if you come out with us on a regular basis – you'll probably get away with it for about five rides! Most new riders are typically so pleased with their riding experiences with the club that they usually join CTC long before using up their 5 "free" rides.
Group safety and courtesy to other road users are key values in our club so please familiarise yourself with How we ride. Also make sure you contact the ride leader when you arrive at the start of a ride. You will be requested to fill in the CTC Guest Entry Form. You could print one and complete it before you come to save time or alternatively ask your ride leader for a copy. Ensure you read the applicable CTC Terms and Conditions shown on the form.
First Aiders
Many of our riders have recently attended First Aid courses, their names will be posted on here in due course
Forms and Leaflets
Guest Entry Form to be completed by non CTC members participating in our rides (as an editable Word Document or as a PDF
An incident report form to be completed by if there is an accident during a ride (as an editable Word document, or as a PDF)
National CTC's Guide to Cycling with a Group leaflet (PDF).
National CTC's Guidelines for Leaders leaflet (PDF).
National CTC's fact sheet on insurance and ride organiser's liability
Compact UK Highway Code for Cyclists
Code of Conduct for Equestrians and Cyclists – British Horse Society
Reporting aggressive or dangerous motorists
Please see separate entry on Information for Leaders page